Spreading the Word About Science–The Patriarch Part 3
Posted by Richard Conniff on March 15, 2015
Continued from "The Teacher, Preacher, PR Man of Science":
In the course of their research, Silliman and Kingsley had spent several hours searching fruitlessly for one unusually large stone that had landed in the town of Trumbull (Silliman's birthplace, as it happened). When it finally turned up, after they'd gone back to New Haven, it weighed 36.5 pounds—and the lucky farmer who found it thought it was worth $500.
An amateur mineral enthusiast, Colonel George Gibbs (the rank was honorific), placed the high bid. He was the heir to a Newport shipping fortune, which he seems to have had no great interest in preserving. Among other acquisitions, he had recently purchased and brought home the extensive mineral collection of a Russian count, and another collection accumulated over 40 years by a great patron of science in France.
Even before the meteorite episode, Silliman's brother in Newport had tipped him off about Gibbs. Silliman and Gibbs soon met, became friends, and spent time geologizing together around New England. In 1810, when he was considering a suitable place to display his mineral "cabinet," Gibbs made inquiries at institutions from Boston to Washington, without quite finding what he was hoping for. Finally, he stopped in to visit Silliman in New Haven and announced, "I will open it here in Yale College, if you will fit up rooms for its reception." Yale promptly did so, on the second floor of what is now Connecticut Hall. And thus, among many other treasures, the 36.5-pound Weston meteorite came to Yale.
Gibbs also provided one other critical boost not just to Yale but to American science at large. Late in 1817, he bumped into Silliman by chance one day aboard the steamboat Fulton, on the ten-hour run between New York and New Haven. A mineralogist who had sporadically published a journal for that discipline was in failing health, and Gibbs urged Silliman to take up the challenge of producing a more broadly focused scientific journal. The following year, having sought and received his predecessor's blessing, Silliman launched the American Journal of Science. It soon became t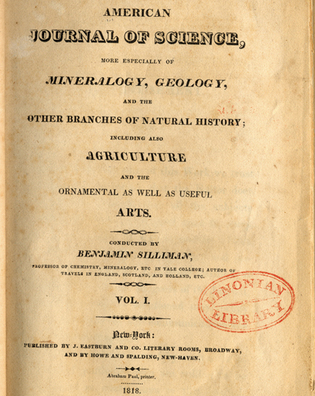 he nation's premier scientific periodical, often referred to simply as "Silliman's Journal."
The rapidly growing Yale mineral collection—in truth, still largely the Gibbs collection—meanwhile began to attract important visitors to New Haven. The collection moved, in 1820, to a space upstairs from the new college dining hall, a prominent building in the heart of the campus later known simply as the "Cabinet Building." For Silliman and Yale, things seemed to be progressing smoothly. But in 1825, Gibbs suddenly announced that he needed to sell. Given his friend's spending habits, Silliman should have been ready. But he was startled, especially because the price Gibbs named for the mineral collection, $20,000, represented two-thirds of Yale's annual income. Silliman was soon out raising funds by pamphlet, public meeting, and door-to-door in New Haven and New York. Yale's new president, Jeremiah Day '95, also knocked on doors, determined not to lose the collection that, as Silliman put it, had been for "so long our pride and ornament." In the end, they raised half the asking price, and Gibbs graciously accepted a note for the balance.
The collection became the basis around which a community of scholars—scientists, as they were just beginning to be known—began to gather at Yale. Silliman built on the prestige of the collection to help Yale found a science school (later the Sheffield Scientific School); the first college art gallery, largely by arrangement with his wife's uncle, the artist John Trumbull; and the medical school. All this helped nudge Yale well along the path from a college into a university. Among those who turned their attention to Yale as a result was an amateur mineralogist still at prep school, O. C. Marsh '60, who carefully noted in his journal a quotation from Silliman on the art of acquisition: "Never part with a good mineral until you have a better." Marsh would later study under Silliman and in time help found the Peabody Museum to house the mineral collection properly. He would also use the museum to make Yale the great center of paleontological discovery in the nineteenth century, going into the American West to bring back the sort of monstrous creatures—Brontosaurus, Allosaurus, Stegosaurus, Triceratops—that would have delighted Jefferson, except that they were thoroughly extinct.
Another Silliman student, Daniel Coit Gilman, would become the college librarian and an important figure in the rise of Yale's Sheffield Scientific School. He would move on to become the first president of Johns Hopkins University and later of the Carnegie Institution, both with a focus on fostering scientific research. Still another student of Silliman's, Amos Eaton, would help found what is now the Rensselaer Polytechnic Institute and pioneer the practice of applying the scientific method "to the common purposes of life."
Silliman accomplished so much in part by nepotism. By the time he retired in 1853, he had established a family dynasty in science. Daniel Coit Gilman was distant kin: his brother had married a Silliman daughter. George J. Brush, a mineralogist and later director of the Sheffield Scientific School, had married Harriet Silliman Trumbull, a Silliman cousin. The faculty also included Silliman's son Benjamin Jr., a chemist who would play a key role in launching the Age of Petroleum, and Silliman's former student and son-in-law James Dwight Dana '33, who was both a zoologist and a celebrated geologist. Dana's son Edward S. Dana '70, '76PhD, would also eventually join the faculty. What mattered, beyond the nepotism, was that Silliman had made it seem perfectly reasonable for Yale, the former Congregational seminary, to employ eight faculty members in science versus just five for theology.
Read the conclusion of this article at "Science and the Rise of the American University"